Share-A-Chef Wednesday
Hi Guys! The husband and I LOVE anything with peanut butter and chocolate and I am always on the lookout for recipes that incorporate the two! Well... this week I have found something AMAZING! Folks, how does
Peanut Butter Brownie Parfaits
sound? AHHH! I actually found this recipe via Jamie from
MyBakingAddiction
. She is a middle school teacher by day and at night she is baking up some delicious dishes and desserts! You have to check out her blog because the recipes that are on there look too yummy not to try at least once!
Let me know if you try this one out!
xo
KP
Peanut Butter Brownie Parfaits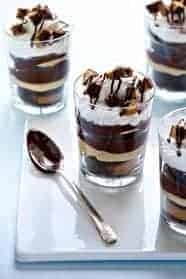 Ingredients:
For the Brownies
4 ounces bittersweet chocolate, roughly chopped
3/4 cup unsalted butter, cut into cubes
1 cup granulated sugar
3 large eggs, lightly beaten
1 teaspoon pure vanilla extract
1/4 teaspoon salt
1 cup all-purpose flour
9 peanut butter cups
For the Peanut Butter "Mousse"
4 ounces cream cheese, softened
1/2 cup creamy peanut butter
1/2 cup plus one tablespoon confectioners' sugar
1/2 teaspoon pure vanilla extract
2-3 tablespoons heavy cream
For the Ganache
6 ounces heavy cream
4 ounces bittersweet chocolate, roughly chopped
For the Garnish
whipped cream
chopped peanut cutter cups
Directions:
1. Preheat oven to 350° F. Line an 8x8 inch baking pan with foil or parchment and spray with nonstick cooking spray. Set aside.
2. Microwave bittersweet chocolate and butter in a large bowl microwave-safe bowl at medium (50%) power. Stir every 30 seconds until chocolate and butter are melted and smooth.
3. Add sugar, eggs, vanilla, and salt to the chocolate mixture and whisk to combine. Using a rubber spatula, gradually fold in the flour until just combined.
4. Spread half the brownie batter into prepared pan. Evenly place the peanut butter cups onto the batter and cover with remaining batter. Spread batter evenly over the peanut butter cups and bake in preheated oven for 30 minutes. Remove pan to cooling rack to cool completely.
5. Once brownies are completely cooled, remove them from the pan and use a small glass or round biscuit cutter to cut the brownies into 8-9 circular shapes. Once you have 8-9 brownie circles, slice each brownie in half horizontally, directly through the centers of the brownies, so each brownie is now two thinner circular brownies.
6. Prepare the Peanut Butter Mousse: In the bowl of a stand mixer fitted with the whisk attachment or in a large bowl using an electric mixer, beat cream cheese, peanut butter, confectioners' sugar, vanilla, and heavy cream until thoroughly combined and fluffy; about 3 minutes.
7. Prepare the Ganache: Place bittersweet chocolate in a medium bowl. In a medium saucepan over medium heat, bring cream to a simmer and immediately remove from heat. Pour hot cream over the bittersweet chocolate and let stand for 3-5 minutes. Whisk ganache until smooth. Allow ganache to cool at room temperature for 10-15 minutes before assembling the trifles.
8. To Assemble he Trifles: Place a brownie at the bottom of each trifle dish or small glass. Evenly pipe or spoon a layer of the peanut butter mousse onto each brownie. Add a layer of ganache and then a layer of whipped cream. Repeats layers. If desired, garnish with additional whipped cream and chopped peanut butter cups. Refrigerate for a few hours or serve immediately.
Notes:
-Servings per recipe will depend on the size of serving dishes.